Joining 9th Romsey Beavers
Every new Beaver has a trial period for the first part of each term and if they wish to join Beavers they will be formally invested during the term.
When invested into the 9th Romsey Beaver Scout Colony each Beaver will receive a World Badge, District and County Badge, a Group Name Badge and the group Neckerchief.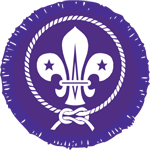 World Membership Badge
See Uniform and Badges for more information
Generally, the Beavers join the colony the term after their 6th birthday and leave for Cubs the term after their 8th Birthday.